Bastian Schweinsteiger and Lukas Podolski have been part of the German national team for more than a decade.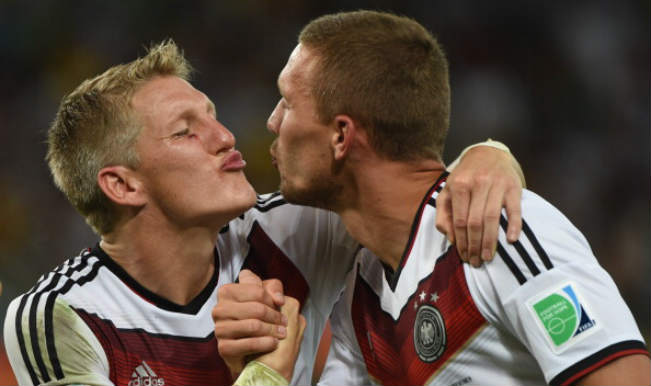 After the recent conclusion of the Euro 2016, these two players have also decided to concluded their international careers with immediate effect. Even though this has come as a shock to many of their fans, this decision was expected with both players entering into the 30s. It allows manager Joachim Loew to look at various younger alternatives going into the World Cup 2018 qualification campaign. Prior to the qualification campaign, though, Germany have decided to award both players an opportunity to say their final goodbyes.
Schweinsteiger and Podolski will be featuring in one final game as confirmed by the German national FA. Schweinsteiger made 120 appearances for the national team and helped them win the World Cup 2014 title. However, he faces an uncertain future with regard to club and international career. After just announcing his international retirement, Schweinsteiger found himself training alone at United and is most likely to be sold before the end of the transfer window. Since his debut in 2004, Podolski has made 126 appearances and has also received the World Cup medal. Despite playing in the Turkish league with Galatasaray, Podolski has always been a first-team regular at international level.

"That will be a special evening for me, I have a lot to thank the DFB and the fans in Germany for.I'm really looking forward to the chance to be able to run out for Germany for one last time," said Schweinsteiger."Basti and Lukas have been huge servants of the national team, the German FA and German football in general. I know that it will mean a lot to both of them to be able to play one last time for Germany. That shows how important the team is, and was, to them," said Loew.