As excitement builds ahead of the much-anticipated 2016 European Championships, world champions Germany are the bookmakers' choice to win it. So what are the chances of the tournament front-runners being able to handle the expectation and follow up their recent World Cup triumph with European glory this summer?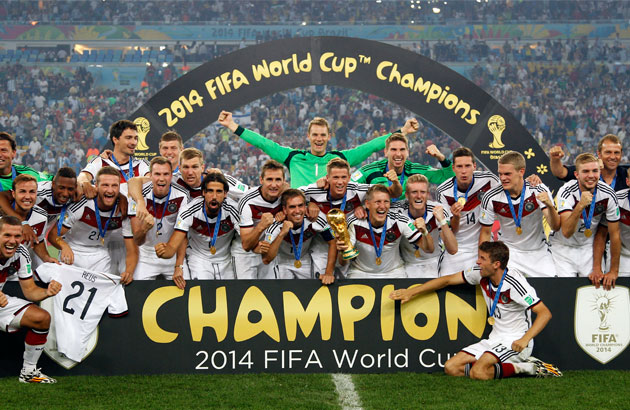 Obvious bet?
It's of little surprise that the Germans are heading to France as favourites. They're renowned for having serious tournament pedigree, and the history books show them to be one of the most successful footballing nations of all time, with four World Cups and three European Championships to their name. What's more, Die Maanschaft have not finished outside of the top three in a major tournament since 2006.
Much of this success has without doubt been down to the manager, Joachim Löw, who has been in the role for almost 10 years now. Löw's record at the helm of the German national team speaks for itself – he has a win percentage of almost 67% (the best of any German manager ever) and has twice taken his side to world number 1 in the FIFA rankings. This wealth of experience could prove crucial in Germany's pursuit of further silverware at the Euros.
More importantly, Löw possesses a squad that is bursting to the seams with talent. His attacking options include the likes of Mesut Özil, Marco Reus and Thomas Müller, while the experience of goalkeeper Manuel Neuer and central defender Mats Hummels will ensure solidity at the back. Success at major tournaments also requires strength in depth, and Löw will have the luxury of being able to call upon a bench that can have a significant impact on games, just as Mario Götze did in the 2014 World Cup final.
All of the above make Germany a serious contender for Euro 2016, although it would be naïve to assume that they already have their hands on the trophy.
Hard to replace
Since the World Cup in Brazil, Germany have had to replace several key names from that squad. Centre-half Per Mertesacker, record-goalscorer Miroslav Klose and captain Philipp Lahm all hung up their boots after the final and Löw subsequently waved goodbye to more than 350 international caps. These players were undoubtedly the foundation upon which Germany's recent success was built, and it remains to be seen just how significant their absence will be moving forward.
The manager may be equally worried by his side's form of late, which has seen Germany lose three of their last five fixtures. Their qualifying campaign wasn't as convincing as years gone by as they lost international qualifiers for the first time since 2007. The Germans also haven't managed to keep a clean sheet for seven consecutive ties, and the way in which his men surrendered a two-goal lead to England in March will surely be a cause of concern for Löw.
That game will have been taken note of by several of the other nations that fancy their chances of Euro glory in July. In particular, Spain, who are chasing a third successive European crown and France whose young, vibrant squad have the advantage of playing on home soil. Then there's the likes of Belgium, Italy and England, all of whom certainly have enough talent amongst their ranks to pose a considerable threat.
Nevertheless, Germany have been pinned with the favourites tag for good reason – the big-stage experience of Joachim Löw in charge of arguably the strongest squad in Europe may well prove to a lethal combination for their competitors this summer. But as the recent friendly fixtures showed, this German outfit is perhaps more vulnerable than first assumed.